Digital Experience should be centered on CRM – and vice-versa
You've gotta start with the customer experience and work backwards to the technology; you can't start with the technology and then try to figure you where you're gonna try to sell it
– Steve Jobs, 1997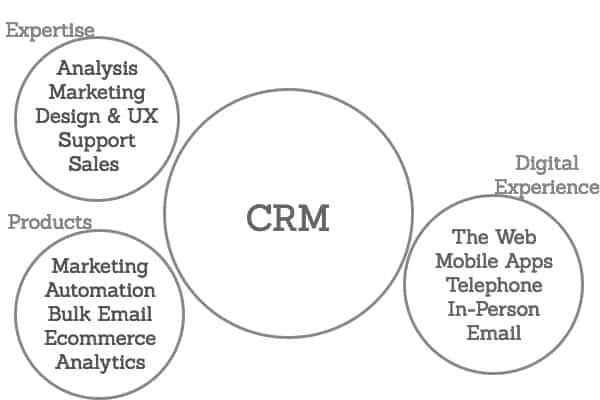 Good things come from centralizing digital experience solutions around CRM. 
CRM by itself can hardly power digital experiences, at least not programmatically. By itself, CRM is essentially nothing more than a list, or a "list of lists." Where it gets interesting — and powerful — is when you integrate CRM with expertise, products, and data — integrating digital experiences into one place.
This is the kind of environment where a balanced digital marketing approach can flourish.
The value of CRM products like Salesforce isn't to have a shared list for sales staff but to be able to deploy it organization-wide for things like:
Initiating large-scale, personalized marketing campaigns
Communicating with clients by the best channel and at the best time
Selling in a way that tracks and centralizes purchase history
Solving problems for customers, as in the case of technical support
Attracting and documenting potential new customers
The idea is to do these things in a very well integrated way such that customer-specific data is carefully aggregated and integrated, even when there are thousands of phone calls, emails, conversations, payments, etc.; happening every single day.
That thoughtful preservation of customer data is the foundation on which to offer him or her excellent experiences with your brand. And how to eliminate wasteful and frustrating experiences, such as, to cite a personal experience with a phone carrier, being told one thing by in-store sales, another by a phone customer support person, and yet another by a website. Somehow I don't think I'm alone there. Frustrating, incoherent customer experiences can be resolved by a digital solution whose CRM integrates intelligently with multiple business software assets, like E-commerce, customer service, and marketing products. 
Specific examples of products Salesforce might synchronize itself with: HubSpot or Marketo for Marketing Automation, TalkDesk for Phone Customer Support, Exact Target (now part of Salesforce) for bulk email marketing, Marketo or Drupal Commerce for Ecommerce, and Tableau for business intelligence. Each product will put its unique constraints and blessings on the architecture of the CRM. Those constraints and blessings will flow through to the CMS and affect the digital experience on customers on the website.
The CMS-powered web is getting better and better at delivering smart, personalized digital experiences; it's the most powerful tool that is part of the customer's actual experience. A Web CMS software implementation can also function as the primary content warehouse for an organization, supporting the efforts of those who communicate with clients by direct mail, telephone and so on. And of course, a powerful Web CMS platform like Drupal can also be the motor for content and functionality of distributed apps on the mobile device and kiosks. After CRM, CMS  software is the second-most important piece of the digital experience solution architecture 
Let's not forget the importance of Expertise. It's a human characteristic, not a technology, but it's a key part of the equation. As with software products, the expertise people impart to a solution should be reflected in the solution's architecture. Expertise can affect CRM data structures, for example, just as an integration with a Marketing Automation product might. For example, workflows. Workflows for strategists, salespeople, and marketers aren't cookie cutter — every company has their unique strengths and needs custom-designed workflow built into their technology solutions. Designing expertise into a solution makes it easier — and more likely — that those who have it will bring it to bear.
Notes from the field
The first time I delivered an integrated Web-CRM solution to a client was with Blackbaud Sphere in the mid-2000s. What a welcome discovery after so many years of trying to make CMS software function like a CRM. In the first few years of working with the Sphere platform, I noticed:
newsletter sign up forms and letter to the editor forms generating CRM leads
those CRM leads feeding email campaigns, spawning qualified leads
campaigns being orchestrated across email and direct mail simultaneously, using demographic data gleaned from the web for targeting
leads converting some to customers (purchasers or donors) or "contacts" in CRM parlance
new contacts created through successful payment transactions
contacts integrated with CMS-based accounts
dynamic/smart auto-segmentation, for smart marketing appeals and for Web content personalization
contacts integrated from offline records created by things like Walk-a-thons and conferences
contacts empowered with Web-based marketing tools to recruit other leads and contacts (Friends Asking Friends)
Just noticing these possibilities was so inspiring to me and the clients I worked with. A decade later, my general view is that CRM remains an extremely under-utilized marketing tool; sure, many organizations have CRM, but is it integrated, is it the hub of marketing operations, and does it drive customer experiences? The advent of digital experience as a business concept is a great opportunity to re-assert the value of integrated CRM, even if the focus (and budget) of investments in digital may be weighted towards websites and applications.
Coda: Customer Experience Management (CEM) vs. Digital Experience Management (DXM)
These two concepts are similar. Some would say they are one and the same. But I think there are slight distinctions that are useful to think about. With buzzwords, the concept comes first, then comes the label.
Both CEM and DXM have been around since the mid-2000s or earlier as concepts, but the labels come to use a decade later.  Both are useful ways of thinking about what kind of solution you need to set up for your organization. For CEM in particular, there's the constant theme of integration. This involves technical subjects like Open Source software, "APIs" (et al.) and SaaS, as well as business and management themes, like Agile approaches to creating and maintaining systems, and silo cross-pollination.
I am linking to a whitepaper http://www.digitalclaritygroup.com/the-need-for-integrated-customer-experience-management that introduces the concept of CEM.  CEM is an altogether broader approach to "Experience" since it attempts to encompass all possible interactions. How does a customer experience walking through the door of a retail brick and mortar store? CEM has the ansswer. So it focuses on things that happen offline and in person — where digital is playing a bigger role.
Digital Experience is more ambitious
Digital experience (DX or DXM), on the other hand, emphasizes the digital user experience across any and all platforms and devices. It's a slightly bigger undertaking. As with Customer Experience, though, CRM is the logical architectural hub of the DXM solution. 
For both concepts, holistic integration is clearly the key to the eventual solution. No software products exist, or could exist, that by itself is capable of adequately managing all the experiences of every kind of person with whom it may interact. Not even CRM. And what's more, organizations might have to integrate with one another internally to take advantage of the technical integration.
That's why it's important to design people and expertise into a Digital Experience solution.  If you follow that guideline as you design solutions, your firm will find a lucrative buyout offer in its lap sometime in the next 100 years 🙂