Two claims I recently made on this list:
And I didn't back either of those claims up. But I have a case study for you  which does: How Drift's Blog Helped Them Build a Multi-Million Dollar Brand.
This comes not from me but from the makers of my favorite digital marketing research product, SpyFu, a sneaky competitor research tool. [1]
And a great brand name!!
I've been frequently mentioning this case study when chatting with clients about how to design a content strategy. It demonstrates how search engine analytics data can answer the content marketing questions I often get from clients:
What to write about? The case study suggests a mix of (6) types of content.
How to write/structure content? They suggesting making better versions of what's already working.
By the way, SpyFu didn't base this case study on the basis of Drift being their customer either.[2]
So you don't need to use SpyFu – or any other search engine or paid advertising analytics product – to get some ideas from this case study on how to design your content strategy.
Just as a teaser, I'll include their piechart answer to "what to write about?", because I think it instantly spells out a fantastic strategy.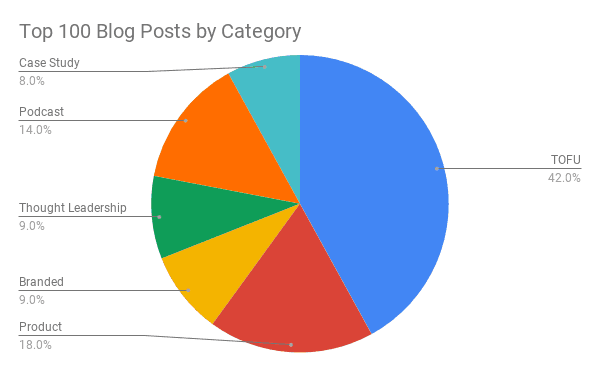 The big blue piece, TOFU, stands for Top of Funnel Content (loosely: "broad/general interest" content), by the way.
The biggest mistake on the web today is basing content strategy entirely on TOFU.
Drift, however, has adopted a much more mixed approach – and with remarkable results as this case study proves with data.
If you're designing a product marketing-focused content strategy, this is a good place to start.
That case study again: https://www.spyfu.com/blog/drift-case-study/
My best,
Rowan
---
FOOTNOTES
[1] SpyFu exposes SEMRush  Rube Goldberg chaos that it is. Ahrefs is better, Spyfu is a lot leaner. Recommended product.
[2] If you have a new brand, product, service… here is proof that you don't need client/customer success stories to produce a case study – you just need relevant data