I have some ideas on how ideation can improve your business.. where can I send them?
∼
Here's my basic outlook on business, life, my career in digital, etc. – big corporations are effectively stealing business from digital entrepreneurs like you. In fact, the global Fortune 5000 is eating up 75% of world-wide GDP – 80 trillion USD.
Earlier in my career, I worked on digital initiatives for some of the world's largest corporations: IBM, Merck & Co., Tiffany & Co., and more. And some large institutions (Smithsonian, US Congress, United Nations). It's odd how similar they are.
One thing I learned – big orgs may have big annual revenues, yes, but they don't do innovation, at least not when it comes to strategic digital innovation.
This makes it painful when they strongarm their digital solutions on the rest of us.
The idea that contracting with a big firm reduces risk is a fallacy. Have you ever heard, "No one ever got fired for hiring IBM"?
That's the problem in a nutshell.
If you're a boutique provider of SaaS software or other high-value innovation products, you have an advantage.
You solve problems with artistry, creativity, craftsmanship, and originality – no jargon, fallback on "best practices", and endless spreadsheets.
Digital lets even the smallest of you do what used to be done only with enterprise sales and marketing budgets.
For example, you are able to:
produce your own channel partner program
create a "hybrid shoring" mini-multinational, blending talent and perspective
run your own publishing and communications platforms
be your own public advocate for new ways of doing things
But still, the big organizations have some advantages you don't, such as investment capital, deep-seated partnerships, institutional bias, and trust, derived from name recognition.
How do you mitigate these advantages?
You must embrace marketing as ongoing, iterative, and agile process – inextricably linked to the development of your products, solutions, and expertise.
There are various ways to make this happen, but it starts with finding the right positioning and messaging for your firm. That lets you put in place an iteratively improvable marketing program. And this program should be able to continuously improve on itself.
If you've ever built a product, this will sound familiar.
Your marketing strategy should provide a regular flow of conversations with new business prospects – if you're not getting more work opportunities than you can service, there's a problem.
The first step is to learn how marketing for B2B tech firms works.
Start today – join a select group of other digital professionals and subscribe to my B2B marketing and ideation newsletter
Some kind words from the people I work with
"Rowan has exceptional understanding and knowledge of the B2B marketing and advertising space"
Bryan H., Owner of a Digital Sales Enablement Company, Miami, Florida

"A very sharp, well-rounded, well-read, and personable professional who is easy to talk to and doesn't shy away from having a freeform conversation with you. Most marketers want to give you prefab solutions and just bill, bill, bill, and cut the small talk, but Rowan sees the bigger picture and is thoughtful to your concerns. Very intriguing insights were offered. A consummate professional."
– Paul J., Owner of a Software-as-a-Service platform

"Rowan's done an excellent job helping our agency with positioning and lead generation. Every contact we have with him, he is full of knowledge and resources. He always adds value! Working with him will deepen your understanding of your business and strengthen your strategy."
– Teresa S., Co-owner of a Digital Marketing Agency

"Unbelievable! Patient, smart, articulate. He really immersed himself in understanding what we do and the messaging we need. A talented website copywriter! It was truly a pleasure working with such a dynamic partner!"
– Melissa L., Executive Vice-President at Executive Search and Consulting Firm
About Rowan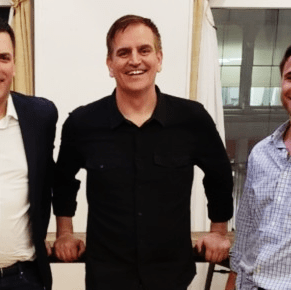 I speak, write, and advise on product marketing, messaging, and ideation, and serve a global client base of B2B tech consultancies and software startups selling high-end solutions, primarily into the US market.  I've worked with firms in Asia, Europe, as well as South and North America.
My approach to the products and advice I provide: radically broad, continuous research and ideation – using the subconscious mind, contentedness, and mindfulness as creativity engines. Get my newsletter on applying ideation to B2B product development and marketing.
My entrepreneurial background includes co-owning a data science & CRM consulting and application development firm, which I grew from scratch to 23 full-time as CMO and lead technology strategist. I also work with You Don't Need a CMO, a collaborative agency which teaches startup founders how to sell and market their own products. More details – and feel free to connect – on LinkedIn.
In my personal life, I love poetry and basketball, and will gladly rant about things like messaging, positioning strategy, and how easy digital nomads have it these days.
Schedule a consultation