Do you want to grow your B2B tech firm next year? Learn why ideation-led marketing is essential
∼
Frequently Asked Questions:
Why does your B2B tech firm need a continuous, agile, marketing program? (And how do you get one?)
Why does both your marketing program need a structured ideation process to have any lasting impact?
And why can't you "get" such a marketing program from a marketing agency – the ones selling you marketing services labelled as "marketing strategy"?
Because if you don't make a systematic, idea-led marketing program part of your basic business structure, you can't really leverage the value of marketing at all.
Because contrary to conventional wisdom, ideas are not a dime a dozen – at least not good ones.
Because your marketing roadmap and your product/solution roadmap – they are one and the same.
It's fine to hire a marketing agency to execute your program, but do you want them to drive your product? (Maybe, actually, and I can tell you how to make this determination).
I feel strongly about this because in my view, big corporations are effectively stealing business from digital entrepreneurs like you. In fact, the global Fortune 5000 is eating up 75% of world-wide GDP – 80 trillion USD.
Earlier in my career, I did digital project work for some of the world's largest: IBM, Merck & Co., Tiffany & Co., the United Nations, and more.
One thing I learned – big orgs may have big annual revenues, yes, but they don't do innovation, at least not when it comes to strategic digital innovation.
Not matter how big the corporate innovation department is, it's still a corporate department. It's not a maker of something new, it's just refining what is old by making it more efficient.
If you're a boutique provider of technology expertise, though, be it packaged as SaaS, integration consulting, web applications, data science, whatever, then innovation is your secret weapon.
Your already solve problems with artistry, craftsmanship, originality, and creativity – no jargon, fallback on "best practices", and endless spreadsheets. Right?
So why not leverage that in your marketing?
The big organizations have advantages you will never, ever have – 10-figure investment capital, deep-seated partnerships, institutional bias, name recognition, and more.
To overcome them, we need go back to the "creativity" part of how you solve problems – and feed that. Double down on your strategic advantage.
How specifically? By embracing a structured ideation process.
And I don't mean brainstorming or "brainswarming". Let me be very clear: brainstorming is bullshit.
Maybe it helps in some limited contexts, such as improving operational efficiencies – or with a group of experts who have worked and researched together for decades, such as at IDEO.
But brainstorming/brainswarming is not how you get big, lasting marketing strategy ideas.
So if brainstorming is not ideation, then what is it?
Ideation is the fusion of two or more elements (facts, ideas, feelings, or observations) in order to make new, valuable ideas.
OK, but how do you do that…
Well, I can tell you how I approach this, based on my research and on my work as a marketing, advertising, and technology consultant.
First of all, it's hard work. Second of all, it's research. Lonely, persistent, intense research. Third, it taps the subconscious mind. And there's more.
If you want to learn how to build a structured ideation process into your marketing, your solutions, and your business itself, get my newsletter
Some kind words from those I work with
"A very sharp, well-rounded, well-read, and personable professional who is easy to talk to and doesn't shy away from having a freeform conversation with you. Most marketers want to give you prefab solutions and just bill, bill, bill, and cut the small talk, but Rowan sees the bigger picture and is thoughtful to your concerns. Very intriguing insights were offered. A consummate professional."
– Paul J., Owner of a Software-as-a-Service platform

"Rowan's done an excellent job helping our agency with positioning and lead generation. Every contact we have with him, he is full of knowledge and resources. He always adds value! Working with him will deepen your understanding of your business and strengthen your strategy."
– Teresa S., Co-owner of a Digital Marketing Agency

"Rowan has exceptional understanding and knowledge of the B2B marketing and advertising space"
Bryan H., Owner of a Digital Sales Enablement Company, Miami, Florida
About Rowan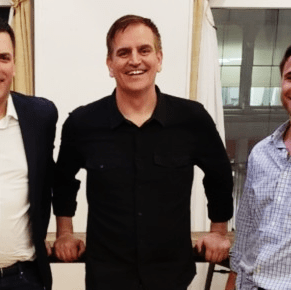 I speak, write, and advise on product marketing, messaging, and ideation, and serve a global client base of B2B tech consultancies and software startups selling high-end solutions, primarily into the US market. I've worked with firms in Asia, Europe, as well as South and North America.
My approach to the products and advice I provide: radically broad, continuous research and ideation – using the subconscious mind, contentedness, and mindfulness as creativity engines.
My entrepreneurial background includes co-owning a data science & CRM consulting and application development firm, which I grew from scratch to 23 full-time as CMO and lead technology strategist.
I also work with You Don't Need a CMO, which teaches the startup world (VCs, incubators, accelerators, founders) in North America and Europe how to build marketing into their business DNA. More details on LinkedIn.
In my personal life, I love poetry and basketball, and will gladly rant about things like messaging, positioning strategy, and how easy digital nomads have it these days.
Schedule a consultation