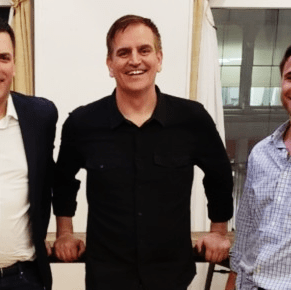 If your tech business had less than 10 new client conversations last month, you should join my list
Earlier in my career, I worked for clients like these:


Now I work for clients like these:
"Rowan's done an excellent job helping our agency with positioning and lead generation. Every contact we have with him, he is full of knowledge and resources. He always adds value! Working with him will deepen your understanding of your business and strengthen your strategy."
– Co-owner of a Digital Marketing Agency
"Unbelievable! Patient, smart, articulate. He really immersed himself in understanding what we do and the messaging we need. A talented website copywriter! It was truly a pleasure working with such a dynamic partner!"
– Executive Vice-President at Executive Search and Consulting Firm
"A very sharp, well-rounded, well-read, and personable professional who is easy to talk to and doesn't shy away from having a freeform conversation with you. Most marketers want to give you prefab solutions and just bill, bill, bill, and cut the small talk, but Rowan sees the bigger picture and is thoughtful to your concerns. Very intriguing insights were offered. A consummate professional."
– Owner of a Software-as-a-Service platform
Big corporations are stealing business from digital entrepreneurs like you; let's take it back
If you think about it, corporations are a blight on humanity. I don't mean on the planet, that's kind of an over-simplification. I mean they are a blight on their customers.
Because when it comes to high-end creative and technical B2B services they don't offer a good value, unlike you. And they are still at least a decade or two behind in digital.
So if you're a boutique provider of marketing, software, consulting, or other high-value services then let's claim what's rightfully yours. 
The time is ripe.
The Internet has been a mixed blessing; on the one hand, it's created new corporations like Google and Amazon that seem more powerful than ever. 
On the other hand, it's created the ability for boutique expertise firms to compete for corporate business through agile digital strategy and partnerships. They can be their own publishers, their own multinationals, and their own advocates for change.
You solve business and marketing problems with artistry, creativity, craftsmanship, and originality – no jargon, "best practices", and endless spreadsheets.
The idea that contracting with a big firm reduces risk is a fallacy. Have you ever heard, "no one ever got fired for hiring IBM"? That's the problem in a nutshell.
Corporations do have their role to play; and for some of us, they are great clients for our services. They're great at manufacturing cars, food, and lots of other consumer goods. Commodities. They also create economic stability.
But complex, high-value services? That's where you come in and play a role. A bigger role.
So let's take a bigger slice of the pie, create more value, and make more money.
How? You must have regular, reliable conversations with clients that leave no doubt as to your expertise. That begins with finding the right strategy and messaging for your firm – and the right ways to convey it. I don't know where you're at now, but I'll help you create that future. Join me.
How do we make this happen?
Articles
Let's stop afterthoughting software training, because it scales better than code I tried using Superhuman, a recently PR-blitzed  (Google it up against date of this article) Silicon Valley enterprise designed for people who live in their inbox. It costs $30/month. Maybe that's worth it, but I tried the free version of Superhuman, which is called "Gmail", […]
About me
I'm a digital lead generation expert with a global client base of privately-held B2B agencies, consultancies, and startups selling high-end solutions into primarily the US market.  I've worked with firms in Canada, China, Japan, The UK, Spain, the UAE, and Brazil – as well as the United States.
My approach calls for radically deep research to provide positioning-focused services and advice:
Creative paid search and inbound funnels
Strategic brand messaging
My digital agency background is substantial and includes co-owning a 23-person Drupal and integrated marketing firm. I also preside over Stampede, a collaborative agency which creates simple lead generation websites and other marketing assets in one day.
Over my career, I've contributed to over 200 digital marketing and engagement initiatives for clients ranging from the United Nations to Tiffany & Co. and the Smithsonian Institute, to small consulting firms and agencies you've probably not heard of.
In my personal life, I love dogs and rant about things like copywriting, positioning strategy, and how easy digital nomads have it these days.